Seinäjoki University of Applied Sciences strives to offer its students the opportunity to study in accessible learning environments. Whenever possible, we try to take into account students' different learning difficulties, illnesses, disabilities or mental health challenges, as well as different cultural backgrounds.
Accessibility of facilities
Library location in Kampustalo
SeAMK Library is located in Kampustalo (Kalevankatu 35, 60100 Seinäjoki). Library facilities are situated on the 0-floor of Kampustalo. The 0-floor can be accessed through the main entrance A of Kampustalo by following the signs, but the route is quite winding. The lift can be found near the C1 door.
The main entrance (C0) is located opposite to the Tower House student apartments. An assistant may be needed when moving around in Kampustalo.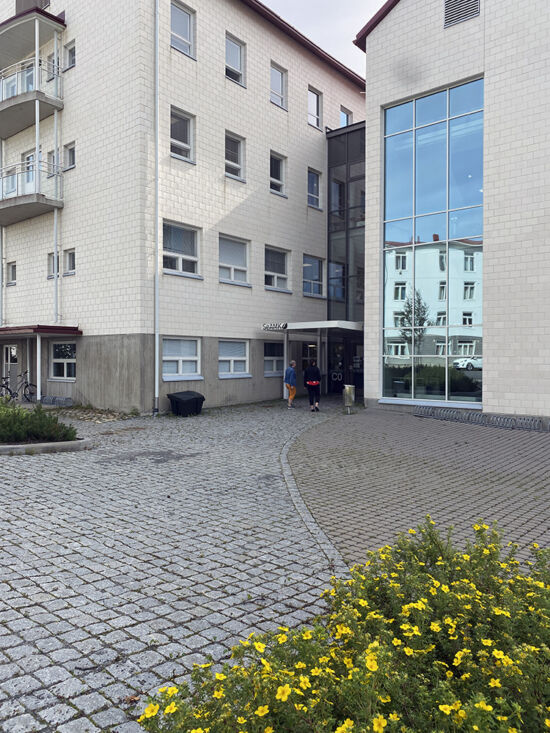 Parking
There are disabled parking spaces near the main entrance A of Kampustalo. There are no actual parking spaces in front of the C0 door, but short-term parking is possible near the door for visiting the library.
The exterior doors to Kampustalo
The exterior doors of the Kampustalo building do not have an automatic opener, so the doors are quite heavy. At the C0 door, accessibility is also hampered by internal doors and library's security gates. Wheelchair access is more convenient through a door nearby a staircase or by opening the double doors.
Library facilities
There is enough space between the shelves for wheelchair access. The height of the library's self-checkout and checkin machines is not adjustable. An assistant may be needed. You can also ask library staff for assistance.
Toilet facilities
Accessible toilets are located in the Kampustalo main lobby and in the toilet facilities on the C0 floor.
Improving accessibility
The accessibility of the Kampustalo premises and outdoor spaces will be examined as part of the accessibility survey of the Seinäjoki University of Applied Sciences. Measures to improve accessibility will be initiated on the basis of the survey.
Digital accessibility
Digital accessibility is taken into account in the delivery and development of library services.
SeAMK Library's online and digital services comply with levels A and AA of the Web Content Accessibility Guidelines (WCAG)
More detailed information on accessibility can be found on the following accessibility statements:
Information about accessibility of library's electronic resources can be found on E-library. Accessibility statements are available under each e-resource if the provider has published them.
Accessibility Library Celia produces and delivers literature in accessible formats, including audio books and braille books for all those with reading difficulties. The service is available via SeAMK Library for the SeAMK students, who find it difficult or impossible to read, for example because of reading disability, injury or illness.
The students at SeAMK, who are Celia customers, can request a longer loan period of four weeks for course books instead of the normal two weeks. In such a situation, please contact SeAMK Library.