New SeAMK-Finna – this is what changed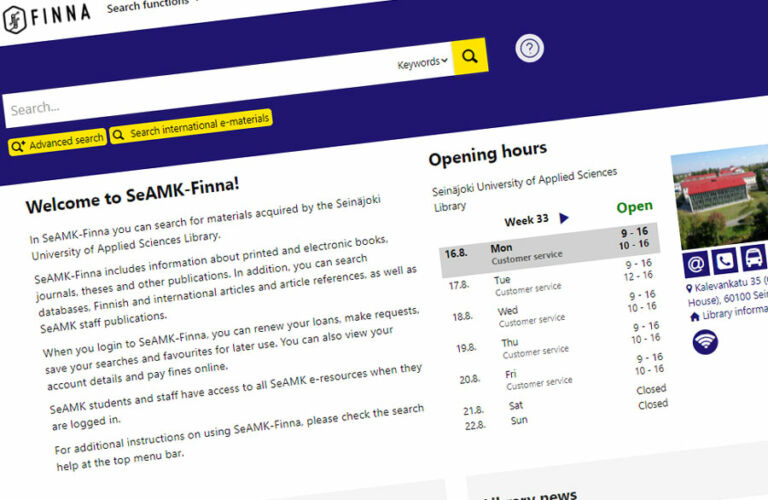 New version of SeAMK Library's web service SeAMK-Finna has been published on August 17th, 2021. The visual look, functionalities, texts, search and instructions have been revised. We have made the service more accessible, as well.
New feature – logging in with Finna ID
There are three options for logging in to SeAMK-Finna:
SeAMK students and staff log in always through Haka login with their personal SeAMK credentials
other patrons can choose

either logging in with with an email address
or logging in with a Finna ID
Haka login and and ordering a single-use login link to email have been available already earlier on SeAMK-Finna. Now we have introduced a new feature, logging in with Finna lD. We wanted to offer it as an alternative to the email login. Other patrons than students and staff at SeAMK may create a new Finna ID and use it on SeAMK-Finna.
It is not possible any more to log in with Eepos library card credentials to SeAMK-Finna. If you have used this login, you can now change it to logging in with a Finna ID.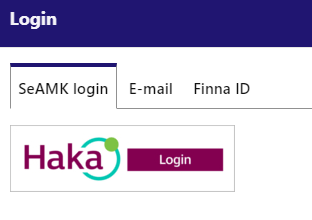 Eepos libraries removed from the search results
On the previous SeAMK-Finna version, the users could check the availability of Eepos libraries' collections. This has now been removed from the new version because of minor usage. In addition, we wanted to avoid any confusion in the search results and make the search clearer. On the new SeAMK-Finna version we only offer search results from SeAMK Library's collections or open publications on the internet.
Information about the staff publications is available on Ministry of Education and Culture's web pages
The tab, SeAMK publication register, has been removed from the search results. Information about SeAMK staff's publications can be found on the Juuli portal (starting from the year 2012) and Research.fi portal.
Information about staff's publications 2006-2018 is still available on the old SeAMK-Finna.
Clearer instructions help the user
We have checked all SeAMK-Finna instructions and made the structure and texts clearer. You can find quick guide, more detailed instructions on basic and advanced search, as well as on logging in, your account and favourites and saved searches under Help.
Favourites and saved searches will disappear during the change
If you have added favourites or saved searches on SeAMK-Finna, they will unfortunately disappear from your account during the version change. Please check how to save your favourites and searches before the version change and import them back to the new SeAMK-Finna. You can also import them via old SeAMK-Finna after the version change.
SeAMK-Finna includes information about printed and electronic books, journals, theses and other publications. In addition, you can search databases, Finnish and international articles and article references, as well as SeAMK staff publications.