Hours and services in the new SeAMK Library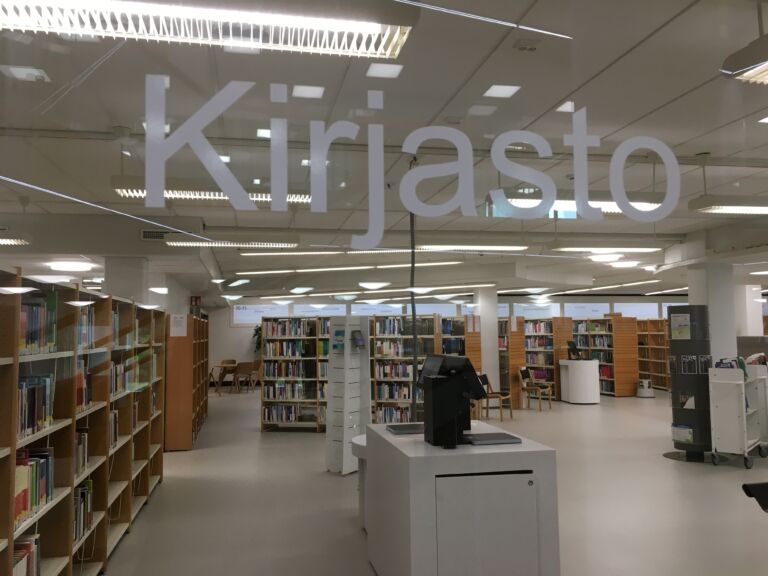 SeAMK Library has been opened in the autumn of 2018 in the refurbished Campus House in Seinäjoki. Collections and services of former Campus Library and Health Library have been united. The library is situated in Kalevankatu 35.
Customer service and book collections
Library's main entrance (C0) is opposite to the Tower house student apartments. Library's customer service and book collections are open Mon-Fri at 9am-6pm and 9am-3pm on eves of midweek holidays. The staff is willing to help you in using the library, collections and e-resources and in finding information for your studies.
You can borrow books by using self check-out machines. Therefore, you must have your library card and PIN code always with you. You can also use the electronic library card on your phone. Use the self check-in machines when you want to return your loans.
There are computers and multifunction devices for printing, copying and scanning available for library customers.
Library services on the area for independent study
Campus House's area for independent study (Tapio-sali) is situated on the ground floor.  It is open 7.30am-6pm. According to the instructions and opening hours available on SeAMK Intra, SeAMK students have access to Tapio-sali through C0 entrance . There are self check-out/in machines also available in the area. If you have made a reservation for a book, you can pick it up from the Tapio-sali and borrow it by using the self check-out machine. You can also return books to the same machine. The area is monitored with cameras and anti-theft system.
There is also a multifunction device for printing, copying and scanning in the area. Students can borrow laptops from laptop lending kiosk.
Seinäjoki University of Applied Sciences Library is a university library open to everyone. Library collections include professional and scholarly literature and journals on several subject areas both in printed and electronic form. The library produces services and acquires resources for students, teachers and researchers at Seinäjoki University of Applied Sciences.