Borrow exercise equipments from SeAMK Library!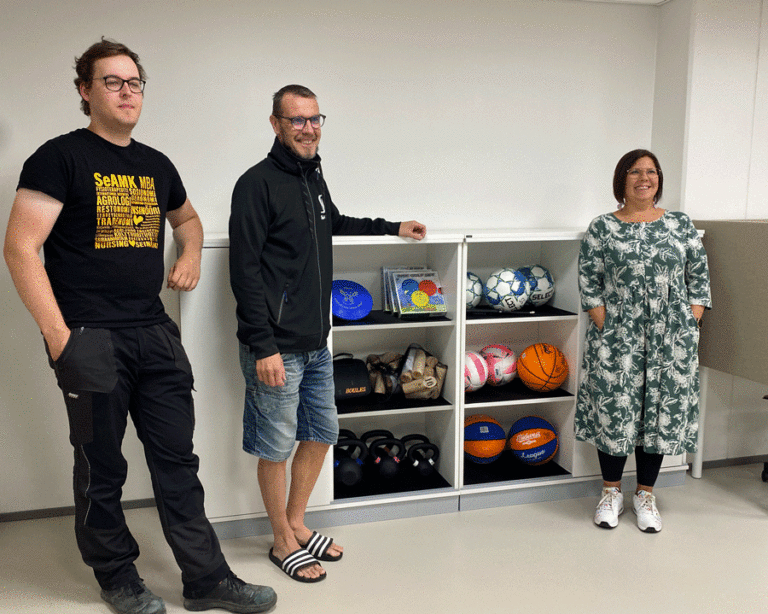 For example, kettlebells, basketballs, footballs, dumbbells, exercise balls, Frisbee golf discs, Mölkky-games and even snowshoes can now be borrowed from SeAMK Library at Kampustalo.
The exercise equipment is primarily intended for the use of SeAMK students and staff, but anyone owning SeAMK Library's library card can borrow the equipment.
– The loan period for exercise equipment is one week. Borrowing and returning takes place through the library's info desk during customer service opening hours. The equipment cannot be reserved, and the loan cannot be renewed, tells Information Service Assistant Anne Pakkanen.
Try out and get excited!
According to Jani Erkkonen, Executive Director of Student Union SAMO, the well-being of SeAMK's students and staff is important to both SAMO and SeAMK, and they actively encourage students and staff to try different sports. Borrowing of exercise equipment makes it possible to get to know different sports at a low threshold.
– SeAMK Campus and for example Seinäjoki Arena and Sports-Swimming Hall have good facilities as well as grass and sand fields and park areas to play and do different sports together, Erkkonen advises.
Student union SAMO and SeAMK Library jointly manage the loaning and user guidance of exercise equipment.
– SAMO is responsible for the equipment and guidance on their use and SeAMK Library for the loaning, says Anne Pakkanen.
SAMO also gladly receives wishes for exercise equipment.
A dozen different types of equipment available
Equipment for more than ten sports can be borrowed from the library, such as various balls, games, and strength training and yoga equipment. An up-to-date list of exercise equipment can always be found on SeAMK Finna with the search term "liikuntavälineet". In the advanced search, you can also select "object/esine". Here you can access the list on SeAMK-Finna directly.
Below is a list of all exercise equipment and games currently available for loan:​​​​​​​
Kettlebell 4 kg 2 pcs
Kettlebell 8 kg 2 pcs
Kettlebell 12 kg 2 pcs
Mölkky-game 2 pcs
Petanque-game 2 pcs
Frisbee golf discs 3 x 3 pcs set
Resistance band Light 5 pcs
Resistance band Medium 5 pcs
Resistance band Strong 5 pcs
Snowshoes 4 pcs
Football 3 pcs
Basketball 3 pcs
Beach volleyball 2 pcs
American football 2 pcs
Dumbbells 1 kg
Dumbbells 2 kg
Dumbbells 3 kg
Dumbbells 5 kg
Dumbbells 7 kg
Dumbbells 10 kg
Dumbbells 15 kg
Exercise ball 1 kg
Exercise ball 2 kg
Exercise ball 4 kg
Yoga bricks 7 x 2 pcs
Frisbee (ordinary) 5 pcs
Versatile sports facilities on SeAMK Campus
The SeAMK Campus has versatile sports facilities for the use of students and staff.
There is a gym in the basement of Frami F building, and an outdoor gym can be found between the F and H buildings. In addition, Kampustalo has an exercise room called Peilisali, where you can do group exercise.
In the fall, the students' exercise and game turns start in the Peilisali of Kampustalo as well as in the B part of the Seinäjoki Arena.
More information about exercise opportunities for students and staff can be found on the SeAMK intranet: