Reduced hours in SeAMK Library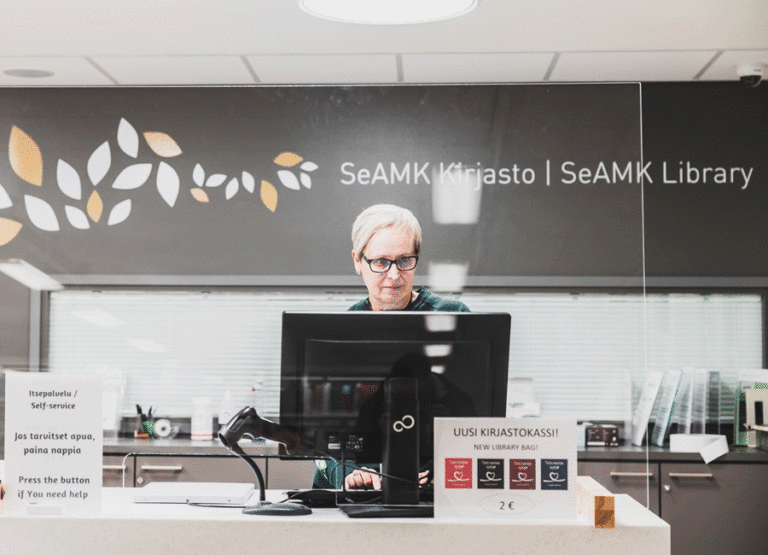 The coronavirus situation in the South Ostrobothnia region has deteriorated rapidly. Therefore, SeAMK Library's opening hours have been reduced.
Reduced hours valid until further notice
Starting from Monday January 10th, 2022, the library will be open Mon—Fri 9:00 — 16:00 (self-service 9:00 — 10:00).
Any changes will be announced later. Please follow library news and our social media accounts.
Request a book on SeAMK-Finna
We recommend our patrons to make requests on books on shelf via our SeAMK-Finna search service. Requests are free of charge. You can find instructions on how to make a requests in the Library Guide, How to use the library and on SeAMK-Finna's video tutorials.
Picking up requests and checking them out at the self check-out machines is placed in Tapio-sali in Kampustalo. Access to Tapio-sali is through C0 entrance on Mon–Fri 7.30am–6.00pm. SeAMK students have access to Tapio-sali through C0 entrance according to the instructions available on SeAMK Intra.
Electronic resources available as usual
The library acquires e-resources for the SeAMK students and staff. They are allowed to read e-books and e-journals even outside the university network, for instance at home or on mobile devices.
Operating on SeAMK Campus (COVID)
When staying in SeAMK's premises, we require the use of face masks and ask you to take care of good hand hygiene and observe safety distances. More instructions can be found on library news.